1
Best Movies according to MMB
A British historical drama starring Colin Firth as the stuttering monarch King George. With Helena Bonham Carter and Geoffrey Rush. Won Four Oscars.
Movie Monstrosity Blog: This film could easily have been a slow, dull pacing piece of history but thanks to the high-class production values, the actors and the director it's a stuttering beautiful piece of well formed entertainment, heated on the lightness of the dialogue. Lovely!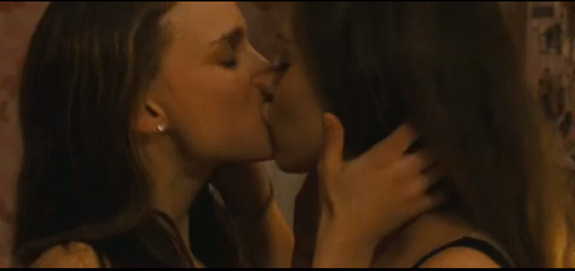 A horror drama starring Nathalie Portman, Mila Kunis as White and Black Swan. Darren Aronofsky at its best! Won one Oscar.
Movie Monstrosity Blog: In a world of ego's and tipping feet, Aranofsky starts his new film with a mix of several genres, masterpieces and a story that blows you away. + Lesbian scene
Animated Comedy western starring Johhny Depp as the chameleon Rango. A non-3D film and still looking so awesomely good? Great job, Gore Verbinski!
Movie Monstrosity Blog: As Fear&Loathing is one of my favourite films, I can't stay neutral. This animation film really grabs Pixar at the throat, it's filled with references like Clint Eastwood, westerns( great genre!) It is a pure homage to film history. Also, this film was not released in 3D which makes it so much better.
Fantastic Western with Jeff Bridges as Rooster Cogburn, Josh Brolin, Matt Damon and young Hailee Steinfeld. Nominated for 10 Oscars.
Movie Monstrosity Blog: I made my own "spaghetti western short film" named Rifle&Revolver last year, and it such a laugh.( The film was bad on the level of acting, movie shots was kind of trying out, sound wasn't so good) but this movie…just wow. It's a remake yes, but still. The actinf of Jeff Bridges was so good It nearly blew my mind.
Ethan and Joel Coen made a fantastic western that will be burned in our memories forever. I saw Jonah Hex and I thought it was the death of a filmgenre. Westerns we're slowly returning to the screen, a few every year but then that crapmovie and I really thought it was over. And then, True Grit. Wow! Thank you Ethan and Joel Coen!
An action thriller centered on a soldier who wakes up in the body of an unknown man and discovers he's part of a mission to find the bomber of a Chicago train. With Jake Gyllenhaal as Colter Stevens. Directed by Duncan Jones( Moon )
Movie Monstrosity Blog: I saw Moon and it was a magnificent piece of art. So I was kind of hyped to see what Duncan Jones realized this time. And I was not disappointed. This movie is not an action blockbuster as it may seem.
The story is there offcourse: man search bomber, man finds bomber, saves girl. But it's completely not like that. The movie wants to be smart and not cliché and it succeeds! Well done, Duncan Jones.
Limitless | Green Hornet
|
Sanctum
|
The Eagle
|
Drive Angry
|
Red State
|
Battle: Los Angeles
|
Paul
|
Sucker Punch
|
Insidious
|
Hannah
|
Rio
|
Scream 4
|
Water For Elephants
|
Fast And Furious 5
|
Pirates 4
|
The Hangover 2
|
Kung Fu Panda 2
|
Tree Of Life
|
X-Men: First Class
|
Super 8
|
Mr. Poppers Penguins | 127 Hours
IN JULY:

Larry Crowne
|
Transformers 3
|
Harry Potter 7 Part 2
|
Captain America
|
Cowboys and Aliens
2

Movies To Cry For(disappointments)
Stars Paul Bettany as a futuristic warrior priest who takes on vampires.
TRUE GRIT
Rooster Cogburn: "It astonishes me that Mr LaBoeuf has been shot, trampled, and nearly bitten his tongue off, and yet not only does he continue to talk but he spills the banks of English."

RANGO
Rango: "I couldn't help but notice you noticing me noticing you."
PIRATES OF THE CARIBBEAN 4: ON STRANGERS TIDE
Jack Sparrow:
Have you been there?
Captain Teague:
Does this face look like it's been to the fountain of youth?
Jack Sparrow:
Depends on the light.

PAUL
Paul: "Are you gonna draw me like your French girls, Jack?"
X-MEN: FIRST CLASS

BRIDESMAIDS
Megan: "I'm glad he's single because I'm going to climb that like a tree."

IRONCLAD
Albany: "What a tedious little man."
GREEN HORNET
Chudnofsky:
Now trembled before your death. For be it my mask, or be it your blood, red will be the last color that you'll ever see.
SUPER 8
Jackson Lamb:
To all of you who are heart, alone, abused, ignored, and any one else, the sun will shine for you. Your dark rainy days will pass. To show you the sun and warmth that you long for. It may not be today or tomorrow, but the day will come when your happiness comes knocking on your door.
5
The Rising Stars Of 2011
1) Hailee Steinfeld ( TRUE GRIT ) = Going to be Juliet in Romeo& Juliet adaption
2) Chris Hemsworth ( THOR )
3)Rose Byrne ( INSIDIOUS, X-MEN: FIRST CLASS AND BRIDESMAIDS)
4) Craig Roberts( SUBMARINE)
5) Joel Edgerton( ANIMAL KINGDOM ) = Getting the lead roles in Warrior, The Thing, The Great Gatsby and Kill Bin Laden.Keep an eye on him.
The Girl With The Dragon Tattoo: give it an Oscar for Best Trailer. PLEASE!
Harry Potter and The Deathly Hallows Part 2 Trailer: We got ourselves a new Wilhelm Scream!
The Tree Of Life
Troll Hunter
X-Men: First Class
6
Rest in Peace: Sadly Departed
Jane Russell – Died 28 February 2011

Elizabeth Taylor – Died 23 March 2011

Sidney Lumet – Died 9 April 2011

Laura Ziskin – Died 12 June 2011

Ryan Dunn – Died 20 June 2011
7
Highlights Of The Second Half